G
ARISDENE
W
INNER
T
AKES
I
T
A
LL
Badji with his new family
Badji's first autumn
Badji's first Christmas
Badji's first birthday

Badji with his new family
24.3.2005




Greetings from Fairfax, Vermont!

Badji, our new Lapphund, arrived March 24th and is doing very well. Many thanks to Tadeja Sila Drobnič (Garisdene Kennels) from Slovania for all you did to make our dream of owning a Lapphund become a reality. Badji is a sweet, happy, healthy puppy. We love him dearly and are excited to share stories of how he is adjusting to his new life in Vermont. Badji is now three months old and weighs almost 17 pounds. He makes us smile often and has given new meaning to our family. We feel very blessed to have him.

Rhonda Siemons

28.3.2005




I need to start by saying "Thank you so very much...our hearts are filled with joy". Badji is the most beautiful, loving, careing puppy that anyone could ever ask for. We love him dearly and are captured by his adorable, kind face and those beautiful eyes. We feel very blessed to have him as part of our family.

30.3.2005




Badji has adjusted very well to his new environment and his new home. We love him dearly. He has a very energetic and yet a soft disposition. He loves to run and play and then collapses from being so tired. CeLynn thinks that he is the "best puppy ever". I can hardly express in words how much we enjoy having him as part of our family. We are amazed with how quickly he learns and how fast he moves for such a young puppy. He is almost fully trained to go outside and knows how to sit for treats. He started sleeping through the night, without asking to go outside, two nights ago. Last night he was so tired after our long walk that he found a quiet place to sleep as soon as we returned. He seems very happy and there is a noticeable smile on his face when he is active and playing.

7.4.2005




I have to say one of his favorite things to do is take our daily (long) family walks on our property. We have ten acres and he simply loves to run, stretch and take in the fresh air. He never wanders far from our feet and always keeps us in his site. His ears are now standing up which makes his face look even more adorable. He has a wonderful disposition and we couldn't be happier.

26.4.2005




Badji is doing very well. We took him to the vet again this past Friday for a check up and an update on shots. He weighs almost 17 pounds and is as healthy as can be. His ears have been up for about 2 to 3 weeks now. At first, I thought it looked rather funny because his face was so tiny in comparison and I was not used to seeing his ears up. Now, of course, they look adorable - especially when he is alert and curious. He is fully potty-trained and will bark at the door when he needs to go outside. because it is cooler. He still loves to take his daily walks and runs through the fields around our house. He is very good about staying close by. We even tried to hide on him yesterday when he wandered a little out of site. It didn't take him long to realize that we were not there and he ran back to find us. When we leave our property, Badji is on a leash. He starts by pulling a little, but we consistently remind him of who is leading. He does very well with the leash because you started with him at an early age. He is full of energy and love.

He really is a very sweet cuddly bear and words cannot express how much we love him.

Badji has changed our lives for the better and I can only hope that others get to experience that same joy.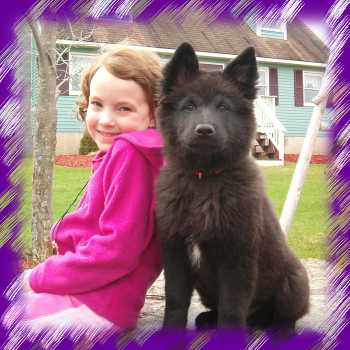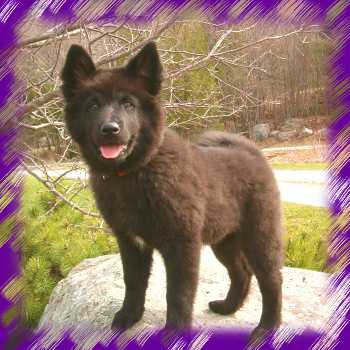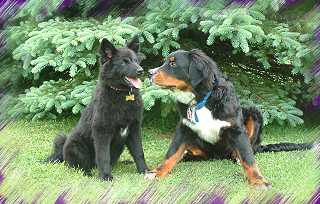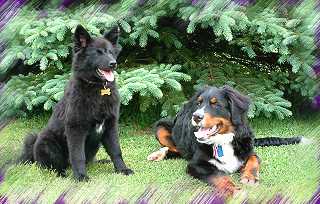 Badji's first autumn
2.9.2005




Greetings from Fairfax, Vermont!

We had a wonderful (active) summer with four camping trips and a vacation in Arizona. Badji has changed a lot over the summer. When we last weighed him he was 39 pounds. He is very healthy and happy. He loves to go anywhere we go including visits to family members, touring the country roads and our camping trips. We are enjoying him more than anyone could imagine and learning more about the breed as time goes by. Our daily routine, now that school is back in session, consists of walking him in the morning (before school) and running and playing with him in the field behind our house after school. He still has a lot of energy and loves to be with us always. His appetite is very healthy. We are amazed that he will eat anything we eat including apples, carrots, pretzels and more. CeLynn does a great deal of sharing at meal times. He loves to jump up and cuddle with us in the evenings when we relax to read or watch TV and he sleeps with Joe and I in the bed until he gets too warm. We are greeted every morning with wonderful wet kisses and paws to help us wake up. He really is a wonderful boy and we are so very happy.

Rhonda Siemons

23.9.2005




Badji on one of our many canoeing ventures which he enjoys so much!
Badji's first Christmas
Badji's first Birthday
21.1.2006




Greetings from Fairfax, Vermont!

Thank you for the wonderful birthday greeting for Badji. CeLynn made sure that we celebrated with cake, decorations, lots of treats, hugs and kisses. We had a wonderful day! The weather was 55 degrees and sunny so we decided to take a long leisurely walk to the park. The attached photos were taken on Badji's birthday. CeLynn was reading a card she made in one photo and a couple of the others show Badji enjoying a rather large piece of cake.

Rhonda Siemons